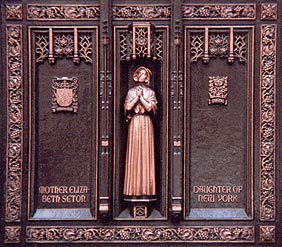 These were the words of Pope Paul VI when he preached at the canonization of St. Elizabeth Ann Seton: "She is a saint!... Rejoice for your glorious daughter." Born in 1774, just as our nation was stirring in preparation for its own birth, little would indicate that some two hundred years later this delicate infant, born in wealth and raised in the society of the established elite, would be raised to the honor of the altar by the Vicar of Christ on the site of the martyrdom of St. Peter.
"Elizabeth Ann Bayley Seton is a Saint! She is the first daughter of the United States of America to be glorified with this incomparable attribute!" The Pope spoke with unexpected emotion and excitement, so remarkable was the revelation that a woman who should have remained anonymous and safe within the fold of her respectable family, had embarked upon the spiritual journey for truth which she knew could lead only to one unfashionable destination: the Catholic Church.
The Holy Father took care to remind the world that the religious sensibility, the spiritual goodness of the saint, was planted and nurtured in Anglicanism. "We willingly recognize this merit, and, knowing well how much it cost Elizabeth to pass over to the Catholic Church, we admire her courage for adhering to the religious truth and divine reality which were manifested to her therein," the Pope said.
The young widow could have remained in her Trinity Church pew, gazing out the window toward St. Peter's Church on Barclay Street. Everything and everyone around her should have caused hesitation, but her heart had gone before, because the Divine Heart was waiting for her there. As another great convert would later say, "Cor ad cor loquitur."