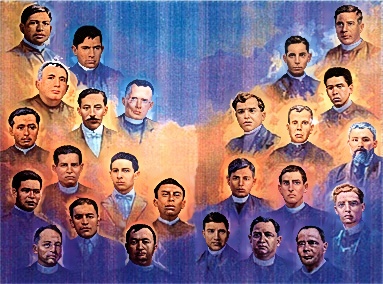 Today is the feast of St. Christopher Magallanes and his Companions, all martyrs for the faith in Mexico. Following is a brief excerpt from the sermon preached by the Servant of God, John Paul the Great, at the canonization on 22 May 2000.
"The states of Jalisco, Zacatecas, Durango, Chihuahua, Guanajuato, Morelos, Guerrero and Colima are the native lands of the new martyr saints. The memory of them and of their generous, heroic commitment lives on, and their glory before God will never fade. These priests, who gave their lives out of fidelity to their priestly ministry, are a shining example for priests today of how to assist the faithful, even at the risk of their own life. Together with them the three lay people are a precious witness of the ecclesial commitment and vocation to holiness that belong to all the baptized and which must prompt us to live in communion of faith and love, especially at the side of those who need us, while always trusting in God."
For a brief account of these saints, look
here
. And if you have an opportunity to read more about another wonderful martyr of Mexico,
Fr. Miguel Pro
, by all means do.